Dance Africa Network: Proud is not the word I'm looking for; 

INSPIRED AND MOTIVATED

, that's more like it! I'm inspired and motivated by his work ethic. Each time I bumped into him, a few years ago, he was either going to training or back from training. Its 2020 and he is "Mike" in the original cast of Magic Mike Live Berlin. Ladies and gentlemen, the talented Kalon Badenhorst! 
Dance Africa Network: A big thank you for taking the time out to take to take this interview. We trust you are well and safe during these times. If you had the opportunity to give advice to your younger self, who is training now and is an aspiring performer, what would you tell him?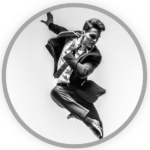 Kalon Badenhorst: 
I would tell myself to keep pushing. All the hard work eventually pays off. Also, try and take a few more tap-dance and singing classes, keep stretching and take care of your body a little more – those small niggles will come back to bite you. 
Dance Africa Network: Whilst you were still here in South Africa, what was your schedule like as an aspiring performer?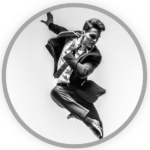 Kalon Badenhorst: 
Ah man, it was pretty hectic; and it got more and more busy as I got older. In high school, I was basically dancing every day after school; and at some points of the year, even before school. My schedule varied slightly, depending on what competitions I was preparing for. Ballet three times a week; Contemporary and Jazz three or four times a week; Disco, Freestyle, Slowdance all two or three times a week; Hip hop twice a week; Showdance twice a week (on weekends); Latin American twice a week. For Freestyle World's prep, I did fitness conditioning every morning before school – and also occasional jobs like TV commercials, corporate events and teaching. 
Dance Africa Network: How many shows have you performed in internationally?  I currently only know two thus far, The Body Guard and Magic Mike Live In Berlin.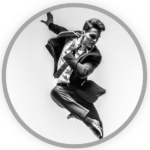 Kalon Badenhorst: 
My first international show was Bodyguard, The Musical in Cologne, Germany. I then performed in an original Danish musical called Seebach (based on a Danish pop star and his father who was also a pop star in the 70s) in Denmark. After this, I performed in the original cast of The Prince of Egypt Musical for its European leg of the world premiere in Denmark. I then got the opportunity to be part of the Austrian cast of Bodyguard, The Musical, which ran in Vienna, Austria, nearing the end of which I auditioned for Magic Mike Live and ended up being asked to take the lead role of "Mike" in the original cast at the German venue, here in Berlin. 
Dance Africa Network: Can you take us through your schedule on a busy day whilst on tour?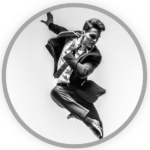 Kalon Badenhorst: 
Thus far, I haven't taken part in any touring shows – all the productions I've done have been based in one town/city, which I personally really enjoy as it gives me the chance to settle in a bit and really experience what that city and country have to offer. This means my schedule can also solidify for a bit and I can get into a routine. My busiest days are usually double-show days. 
These mostly happen during the weekends (Friday, Saturday, Sunday), as there will be a matinee show (afternoon) as well as an evening show. I try and get into the gym before the first show, and make sure I eat and warm up again before the second. So my day would start at around 10am, as I would have had a late night show the night before, meaning I would only get home late, eat dinner, and wind down from the adrenaline of the show. So I get up and have breakfast at 10am, get some house work done, head to the gym for about 1hr 30min, then back home or off to the theatre to eat lunch and start warming up and getting ready for the first show. 
Once we're open again with Magic Mike here in Berlin, we will eventually be adding in a three-show day, which will be an interesting new challenge, but one I am looking forward to. 
Dance Africa Network: If I'm not mistaken, your mother was once your manager at one point. If she was/ still is, in your opinion, why is having a manager very important for you as dancer?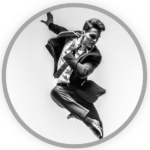 Kalon Badenhorst: 
Yes, my Mum was my manager when I was back home in SA; it just made sense you know. After appearing on SA's Got Talent at the age of 11, I knew that I wanted to be a performer; and with a little bit of momentum, I was being asked to perform at some events and who best to look after you at that age than your Mum/Dad. I am very lucky that both my parents are extremely supportive, open-minded and experienced in the fields of media, publicity and marketing.
My Mum always put my best interests and me first. We spent most of our days together driving between studios for training before I could drive myself, which was most of my intense dance training years. No one understood the value of my time, effort and ability like she did, because of this, having a manager can be important for a couple reasons mainly to stop people from taking advantage of you and your craft. 
As professional dancers it is imperative that we treat ourselves as a business and therefore, having a manager as a buffer between you and your client can deter them from taking liberties with your service. 
As artists we walk a fine line because we are passionate and enjoy performing, but still need to make money and be firm when needed. This is where having a manger is extremely helpful. 
When a manager/agent is in negotiations, it gives the artist and their image a certain level of security. This saves an artist from having to deal with awkward conversations directly with the client and gives them more time and energy to focus on the job at hand, performing. 
Dance Africa Network: What dance styles are you trained in and where did you train?  
Kalon Badenhorst: 
I have training in Hip Hop foundations (breaking, popping, locking, house, whacking, vogueing), a few of which I am a bit more advanced in than others – breaking, popping and locking. Contemporary, Jazz and Modern, which make up the fundamentals for Showdance. Freestyle and Slowdance, all five Latin American dances Jive, Cha-Cha, Rhumba, Paso Doble and Samba, to a higher degree Jive, Cha-Cha, Samba and Rhumba. I started out my Ballet training in the RAD (British) form, but continued most of my ballet training in Cecchetti (Italian) method. I had danced at many studios with numerous teachers. I hope I have remembered them all:
Hip Hop (Street dance)  
(Hip Hop Connection) 
Elly Majola
Marius

Tamara de Wet 
Kyle Verbeek 
(DanceWeb)
Tumi Tladi

Craig and Mandy Bullock 
Paul Luthando
Darim da Paixao

Quaid Jones (FLIP)

Kyle Clark

Anuq Wilson 
Freestyle/Slowdance 
(Pulsation)
Gia Rootman

Marcel Vilonel 
(DanceZone) 
Cindy Foggitt 
David Jones

Stephen Noall

Deon Oosthuizen 
Liz McConaughey (Ballet – Adagio)
Yarisha Singh (Contemp)

Angelo Collins (SA's Got Talent) 
(Diana Moore Dance World) 
Ballet
Karen Beukes MacDonoald – RAD Ballet

Annelise Venter – Checchetti 
Showdance/Modern/Contemporary & Others
Lauren Jones (Showdance, Modern, Contempory, Jazz)
Craig Arnold – Technique, Showdance 
Craig Smith – Adage/Partnering (lifts) 
Quintus Jansen – Latin 
Daniel Swanepoel (Daniel Swanepoel Dance Studio)– Freestyle, Slowdance, Contemporary, Jazz, Adage/Partnering (lifts) 
IDO Showdance and Modern Competition Choreographers/Trainers 
Angelique Shehata
Mitja Popovski
Hope Maimane 
Wendy Quarmby 
Notable Mentions and International Workshops 
Tony Tzar

Mandy Fivas

Kumari Suraj 
David Matamela

Debbie Rakusin

Sabre Johnson (SYTYCD USA Season 3)
Kameron Bink 
Dance Africa Network: Could you tell us more about the cast of Magic Mike Berlin? How many dancers are in the team and who is the head choreographer?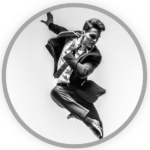 Kalon Badenhorst: There are 15 male dancers, including myself, and two female dancers (who are only present in two numbers of the show). They are all extremely talented and hard-working dancers in their own personal styles and training – everyone can do something I wish I could do! This is what makes the show so awesome – 'everyone has their own amazing thing', but can come together to kill the choreography. There is a choreography team of three insanely experienced and skilled choreographers – Alison Faulk, Teresa Espinosa and Luke Broadlick (Look them up, their CVs are insane!). They have worked with huge international artists and appeared in films including You Got Served and Step Up 2.
Dance Africa Network: What is most challenging thing for you being on tour?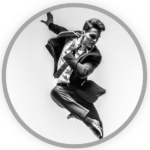 Kalon Badenhorst: The most challenging thing about working internationally is being home sick. I miss family and friends back in South Africa a lot, even though they are all super supportive of what I do and my journey. Sometimes you just want to sit and have dinner with your family. I've got a younger brother, Cade (14), and it's tough to know I'm not around to see him grow up.

We are very lucky these days to have the technology that we do – it makes me feel a little less distant and a little closer to home. Another thing is, I've spent most my life in SA (born and raised). I am proudly South African; I miss South African things like Spar Letta Cream Soda, some biltong and even the sound of 'Hadadas'! One other thing I find challenging from living contract to contract and moving to whichever country or city, is packing and moving your whole life in a few suitcases. I mostly get around using public transport here in Europe and as much as I love traveling, man is it tough lugging two big suitcases around! 
Dance Africa Network: Where do you see yourself in the next 5 years as a dancer?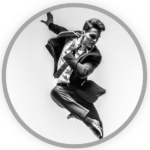 Kalon Badenhorst: This is an interesting question, as five years ago I would have said performing on the world stage in an international production. And after being through everything I have experienced so far out here, in the next five years I see myself still doing this. I know that might not seem like "progress" but staying on your game and in the scene out here is the progress. I feel like I grow with every performance, every show and every experience. It's about the journey and there are a lot of factors that you can't control so I try make the most of the things that I can control and see where the rest takes me. 
Dance Africa Network: Any advice you would like to share for aspiring dancers who would like to perform abroad in a musical/show one day?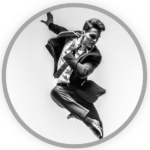 Kalon Badenhorst: 
Keep pushing, there is always something new to learn and everyone can teach you something. Good or bad, it's experience that shapes you. Do your best to open yourself up to learning different styles of not only dance but also other live performance outlets such as singing, acting, MCing and presenting. Expressing yourself and being in front of audiences in different ways will always be an asset and help you grow. Just as important is to know that we never stop learning and to learn from as many different people as possible. Find your own style and stay true to yourself and your expression – this is what makes you unique. 
There you go, ladies and gentlemen. Thank you once again for agreeing to take this interview and we wish you the best. You are an inspiration to aspiring performers. To whoever is reading this, thank you, first and foremost, and we hope you have gained a better understanding of what it takes to perform on a world stage. 
Thank You.  
Follow Kalon Badenhorst on Instagram
Written By: Dance Africa Network
Edited By: Leila Meyer
Headline Image: Paul Luthando